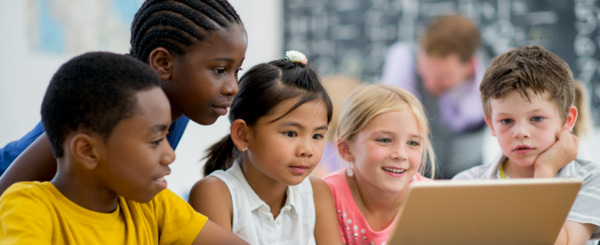 Bring the Joy Back to Learning With Pubbly
Good books open worlds to children. The whimsy and warmth of stories are foundational in childhood; tales that educate, entertain, or encourage all help nurture and grow a little one's creativity and cognition. Pubbly is reinventing the experience of reading for children, adding artistic animation to the joy of book reading in an interactive online platform.
Pubbly harnesses the cadence and skill-building of books with the convenience and accessibility of online reading for kids into something never seen before. It's not just a book; it's a Pubbly.
In this first article of a six-part series, we will introduce you to all the ways Pubbly's format is bringing something new to the market — without getting lost in overactivity or overstimulation — while keeping what we love about books. Pubbly interactive books and activities ignite reading relationships, reimagining what is possible for the modern budding reader.
What is Pubbly?
Pubbly.com is a place where animated stories, educational games, and programs for kids come to life mindfully online. The Pubbly website offers a wide collection of interactive and animated children's literature, from time-honored tales to new favorites, focusing on enjoyment and support for young readers.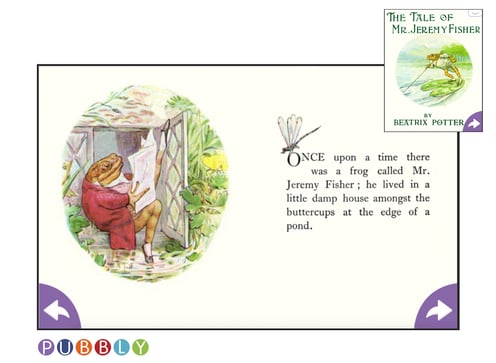 The best way to understand a Pubbly is to experience one. You'll see firsthand how the pages naturally invite a child's engagement, developing young readership while offering online education resources for parents and teachers. Pubbly-powered content works on desktops, laptops, tablets, phones, and a teacher's interactive whiteboard or even a smartTV at home.
Who is Pubbly For?
Everyone. It is a one-of-a-kind educational resource for parents, grandparents, caregivers, teachers, and children. A fast-paced world places demands on everyone, and Pubbly is here to help all who are invested in caring for and educating children.
In the home, Pubbly offers an engaging alternative to traditional video games and television; the Pubbly platform is designed to be a comprehensive educational supplement, a reward for both caregiver and child, a respite in the middle of the day, or an activity to enjoy together. Additionally, by offering free online reading for kids, Pubbly brings traditional books to a wider audience. Since it can be used on a handheld device, Pubbly can go with you or your child anywhere, and its platform was carefully curated to be accessible to everyone – including people who aren't comfortable with technology or those who do not have access to traditional books.
While the need to support and educate our children is a constant, our approach must evolve as educational and social norms change. Whether at home, in a classroom, or in a school library, Pubbly bridges the gap between honoring traditional books and offering technology-accessible materials – and still leaves room for childhood wonder.
How Does Pubbly Support a Natural, Joyful Reading Experience?
Reading with a child develops a special bond. You enter the story world together, and through this connection, many wonderful things unfold, such as:
Increased concentration and discipline
Building creativity and imagination
Expanding vocabulary
Developing social-emotional learning
Cultivating a love of reading
Television and video games can be educational but do not offer the same connective space. Pubbly is designed to emulate, not replace, the experience of a parent reading to a child by using kinetic cues. Read-aloud narration and "Here I am!" paragraph bounces promote awareness of the text on the page to improve reading comprehension.
Additionally, the pages do not turn automatically as the book is read to them; Pubbly empowers the reader to control the action and experience the content at a comfortable pace; whether that means clicking to reveal the next page or replaying an animation, the built-in features give children time to ask questions and maintain their natural curiosity.
The Magic of Pubbly
In Pubbly, things move in the way imagined by the artist, which illustrators love. Authors are given a chance to share their work through animated books for kids that invite participation with an enhanced reading experience.
Pubbly's animation maintains the magic of the story. There are many places to get animated books, but Pubbly marries interaction and animation elements to inspire a young mind, not overwhelm it. As an example, in Pubbly's Helping Hands Reader series, children are encouraged to read two lines (two pages of text). If they need help, they simply tap a word to hear it pronounced, strengthening sight word comprehension and phonetics. With this task accomplished, readers are invited to click a question button. They then tap the word in the previously read text that answers the question; for example, the question, "What did Jack grow?" might prompt the reader to click on the word "seeds" in the context of the original text as a type of embedded formative assessment.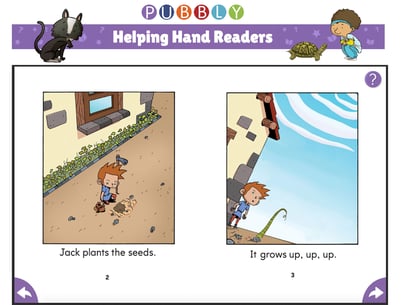 When readers click the correct answer, they are rewarded with the illustrator's animation, enhancing their enjoyment of the pages being read aloud to them. This style of engagement repeats throughout each book in this early learning series.
The demands of modern life can pressure us to make compromises with our time, or ask us to tend to a million things at once. Pubbly slows down the world, giving space for children to fall in love with the magic of reading, whether sitting next to a grandparent, at a school library desk, or waiting with a caretaker at an appointment. Pubbly opens the door to a life of learning and the empowerment that comes with being a successful reader.
Get Cozy with Pubbly
Pubbly is dedicated to having a portion of our animated books, educational programs, and games FREE and open to early learners everywhere. Sign up now to view on desktop or download our Pubbly Player on iOS, Kindle, or Android.